Dear Parents, Carers and Students
I hope your weekend is going well. Today's update includes information about:
Standards and Quality Report
Charity football match to remember Andrew MacKinnon
Forrester High School Sports Membership
Business Live Conference
Letter from Amanda Hatton regarding (RAAC)
Parent Council
Supported Self-evaluation
Standards and Quality Report and Improvement Plan (SQIP)
The school SQIP is now updated and published on our website. This can be accessed within our School Handbook Page, under the Our School menu.
Charity Football Match in Memory of Andrew MacKinnon
I would like to draw your attention to the charity football match, in memory of Andrew MacKinnon, which we will be supporting on Sunday 10th September. The match kicks off at 3:00pm at Saughton Enclosure – see flier. Please come along and lend your support.
Forrester High School Sports Membership
Last week, supported by staff from across the school, the PE department launched our extra-curricular sports programme. Students were invited to sign up for a variety of activities at a sports fair earlier in the week. In case you missed this, please follow the link below.
Forrester High School Sports Membership 2023 to 2024 | Edinburgh Sports Unit (spydus.co.uk)
Business Live Conference
Our senior pupils had a fantastic experience at the Business Live Conference at Napier University on Thursday 31/8/23.  Once again, our students were an absolute credit to themselves and the school – excellent time-keeping, perfect dress code, and outstanding participation and engagement. Well done!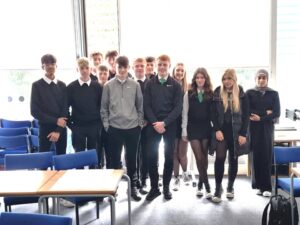 Letter from Amanda Hatton
Please take moment to read a letter from Amanda Hatton, Executive Director for Children, Education and Justice Services, responding to the issue of Reinforced Autoclaved Aerated Concrete (RAAC) in a small number of schools.  Forrester is not affected by this and you can read the full letter linked below.
Reinforced Autoclaved Aerated Concrete (RAAC)
Parent Council
Our first Parent Council of the year takes place on Tuesday 12th September from 7:00pm – 9:00pm in the school meeting room. Our Parent Council warmly invite all parents, particularly new S1 parents, to attend this meeting, and I look forward to meeting you there. You can stay up-to-date with the work of the Parent Council on our dedicated Parent Council Page.
Supported Self-Evaluation (SSE)
Finally, the school will welcome a team of officers from the City of Edinburgh Council to take part in a supported self-evaluation from Tuesday 5th to Wednesday 6th September. Last week, we shared this information with students in assemblies and emphasised the importance of making a good impression through sticking to our school values – Respect – Believe – Achieve, and our three rules for learning – Ready – Respectful – Responsible. We also emphasised the importance of taking an active role in their learning.
Thank you for all your support over the first few weeks of term to ensure students are well-prepared and ready for learning. Please help us this week by continuing to reinforce these important messages.
Thanks and best wishes
Stephen Rafferty
Head Teacher